Future Projects

Ceyhan Organized Energy Zone As an energy center on a World scale, US$ 20 billion will be invested in the zone. The project envisages construction of various types of facilities. The region has The Baku–Tbilisi–Ceyhan pipeline which has the capacity to transport 50 million tons of crude oil from Azerbaijan to the region, plus that the Iraq-Turkey pipeline brings about 71 million tons of crude oil from Kerkuk.
Çukurova International Airport Çukurova International Airport will have a capacity of 10 million passengers and is expected to be built in Mersin Tarsus-Kargılı area in two years. Airport is being built 51 km east of Mersin city centre and 32 km west of Adana city centre.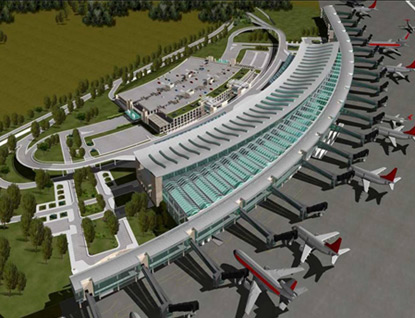 Mersin Logistics Specialization Organized Zone Mersin Logistics Specialization Zone will be the first international transport centre, aimed and realized according to the European standards. It is planned as leasable for all international and national logistics, custom consultancy and import, export companies and respectively public institutions and establishments, the packaging and distribution sector.

Tarsus-Kazanlı Tourism Zone This tourism centre is located on the coastal part of the district of Tarsus. It is 15 km to Tarsus, 40 km Mersin and 50 km to Adana and to Adana International Airport. 1710 hectares of land has been allocated to investors for the construction of two golf courses, one well-being centre, one congress and meeting centre and several hotels with a capacity of 7600 beds. This tourism centre is planned to be in operation by 2013.

Karboğazı Ski Center This center has suitable conditions for Alpine skiing, ski touring, cross-country. The skiing area of Karboğazı is 2904 – 3447 m high and covered with forests. The total area of the area is 3573 Hectares. The duration of skiing is 120 days a year. The most suitable skiing conditions are between December and April.

Akkuyu Nuclear Power Plant
The Turkish Government has signed a deal with the Russian Government to construct four 1,200 MWe VVER units as a total 4,800 MWe to be serviced in 2016. The deal was signed on 12 May 2010. The nuclear plant will be built, owned and operated by a Russian subsidiary of Rosatom, a state-owned nuclear company. Akkuyu is located on the Mediterranean coast near Gülnar and will be Turkey's first nuclear power plant.